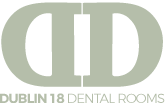 Formerly known as Cabinteely Dental Care
At Dublin 18 Dental Rooms, we are proud to be at the forefront of dental technology, embracing the latest developments in materials, techniques, and technological advances to provide the highest-quality, longest lasting treatment solutions.
We are one of only a small number of clinics in Ireland to have an in-house CEREC machine for the creation of crowns, veneers, onlays and white filling inlays. There are several benefits of using the CEREC machine for dental restorations, not least that it enables us to restore decayed teeth, place crowns or replace old metal amalgam fillings in a single appointment. The other great advantages are;
the extremely accurate fitting surfaces that can be achieved through digital scanning
the immensely strong eMAX ceramic materials that result from the more favourable milling process rather than the older lay-up lab process.
the superior aesthetics achieved by using the enamel-like translucent strong materials where no interior metal reinforcement is needed.
The CEREC machine comprises of a scanner, a computer, and a milling unit. The use of a scanner is much more pleasant for our patients compared to the traditional taking of paste impressions, particularly if you have a strong gag reflex. After preparing your tooth, we will use a small camera to take a scan of it and of the opposing biting teeth.
The image from this scan is fed into the computer and a digital 3D model is created along with a computer generated proposal, to be used as a guide for designing your crown, veneer, onlay or inlay. Your dentist will have complete control to modify the final appearance and shape of the restoration. The 3D image simulation can be manipulated to create a perfect shape to accommodate the bite space and to create the best looking restoration before it is milled from a ceramic block on the milling machine.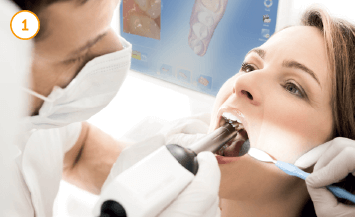 1. After the consultation, a camera captures the area to be treated.
2. The dental prosthesis is then created as a 3D model on the computer.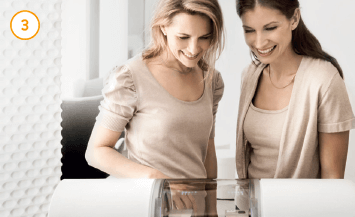 3. The restoration created on the computer is subsequently milled from a ceramic block.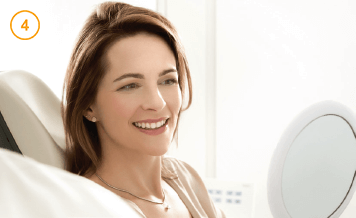 4. The finished ceramic restoration is inserted just a little while later.
A shade of ceramic that matches the natural colour of your teeth will be selected, to ensure a natural appearance to the finished restoration. In some cases your dentist will also tint or characterise the restoration to make sure it matches your other teeth perfectly before it is given a final surface glaze and shine. Your restoration will then be fitted using a special strong dental bonding agent.
By using CEREC technology at our Dublin dental practice, we are able to restore or transform your teeth in a single appointment – you can have crowns in a day, veneers in a day……… a complete new smile in a day. Compare that with the standard two or three weeks for traditional restorations to be made by a lab technician who has never seen the rest of your smile……… and you can see why CEREC has become so popular. Perfect for patients with busy lives, it means you will walk into the practice in need of treatment and walk out a short time later with a beautifully restored smile.
I had crown work done years ago abroad and I was never happy with the result. Realistically, I should have had it done here at the time. After that I just lived with them but I would hide my smile in pictures and even keep my hand over my mouth while talking to people.
I had been given a highly valued recommendation by my brother in law to attend this clinic for dental treatment. I often would talk about how my teeth really bothered me. He himself had amazing treatment here and I wanted the same. My experience from start to finish was amazing and the result speaks for itself. I cried literally when I was handed the mirror. It has been life changing. I'm delighted I found this clinic……. and I will attend here for life!
- Roisin…… South Dublin -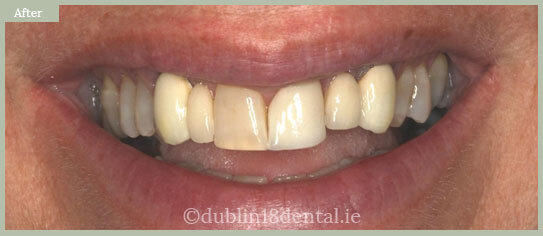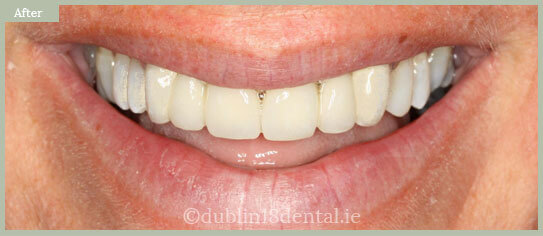 Read Roisin Testimonial

I had an accident as a child- a lorry door was pushed open into my face and cracked all my front teeth. I spent my life as a teenager having them repaired with white filling material and right up into my adult years. I struggled with confidence and I was actually afraid and embarrassed to show anyone my teeth. I had thought about getting something done for years but I never plucked up the courage to firstly discuss it or secondly find a dentist I could truly trust to help with my confidence. I was recommended to come here by Deborah who is a friend of mine. She knew I was struggling with my self-confidence and she said in an 18 years career in dentistry she has never seen anything as good as this clinic. I was embarrassed but Deborah reassured me that I was going to be in the best hands.
So I did it……I made my appointment ……..did not sleep the night before but now looking back I cannot believe I did not do something about this sooner. I had all my crowns done in the one day and I literally walked out that door a new person. I cried all the way home with sheer delight- I could not believe the work they had done for me.
Deborah was exactly right. There is no clinic like here. I've referred my sisters, my brother, my daughter and my work colleagues. The comments I received on my teeth after, gave me such a boost- I'm a new person!!!!!!!! Thank you so much.
I will be forever grateful.
- Barbara Moriarty -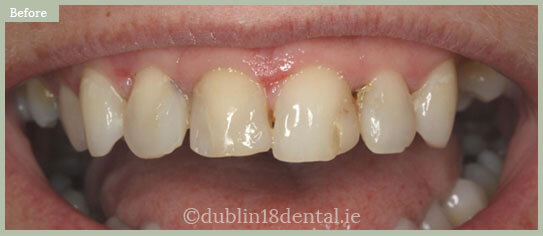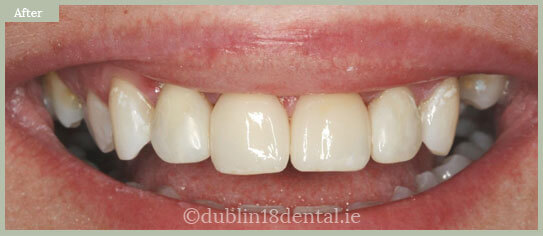 Read Barbara Testimonial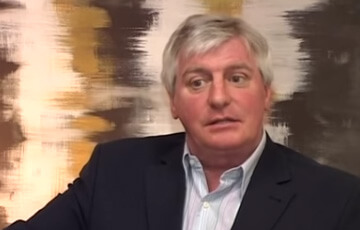 THIS SOUNDS IDEAL FOR ME. WHAT DO I DO?
Ring us now and we can answer any of your questions. If you prefer, why not book in for a free consultation with our treatment coordination team. You will be able to find out more information about cerec restorations and any other additional services that you may be interested in.